We asked ourselves, what makes us complete? And there are just a lot of answers that we feel missing that makes us incomplete, struggling to live our life for we seek the 'harmony'.
I've reflected for weeks, deactivated all my social networking accounts for I needed to isolate the grasped knowledge of information from the stolen thoughts of my past. Everyday I learn from the feeds which takes me away from a piece that should've changed the story of my life; my mom.
I was hard on myself, pouring out the emotions over and over. I keep forming depression which made me think my career dilemma and the failure to start something special with 'someone'. It was too much of a failure for me which I had a breakdown. Well, this is me. I cry.
It's been twenty three years of being clueless if my mom is still alive. It's not easy for I don't know where and how to start. I may have the latest technology ways but it does not straight me in finding a part of me knowing just one truth. Nothing is special when I was three years old; enjoyed my growth of existence but it strikes me the most when my mom left us with no reason at all. Just like that. Yeah, just like that.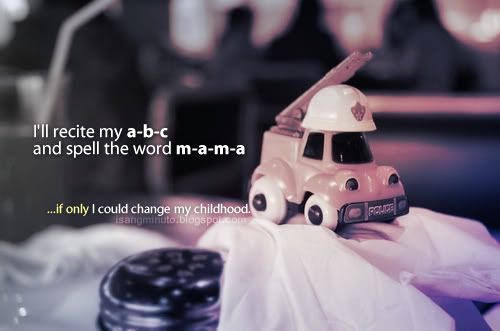 I guess I'm the best dramatic actor of my generation. Friends don't get to hear me say all these emotions behind the smiles I'm giving them, for the moment I take on that soft spot, I just can't stop crying. Believe me. This is the truth that I fight to live everyday. Truth really hurts. Some are just lucky enough, and I am not.
This is my life, it's all drama, but I never get tired of dealing with it.
I'm now starting from scratch, opening the new chapters of my story book. It will be a rough challenge taking this courage out of me. I tell you, it doesn't stop here.
To you mom,

I will never give up.